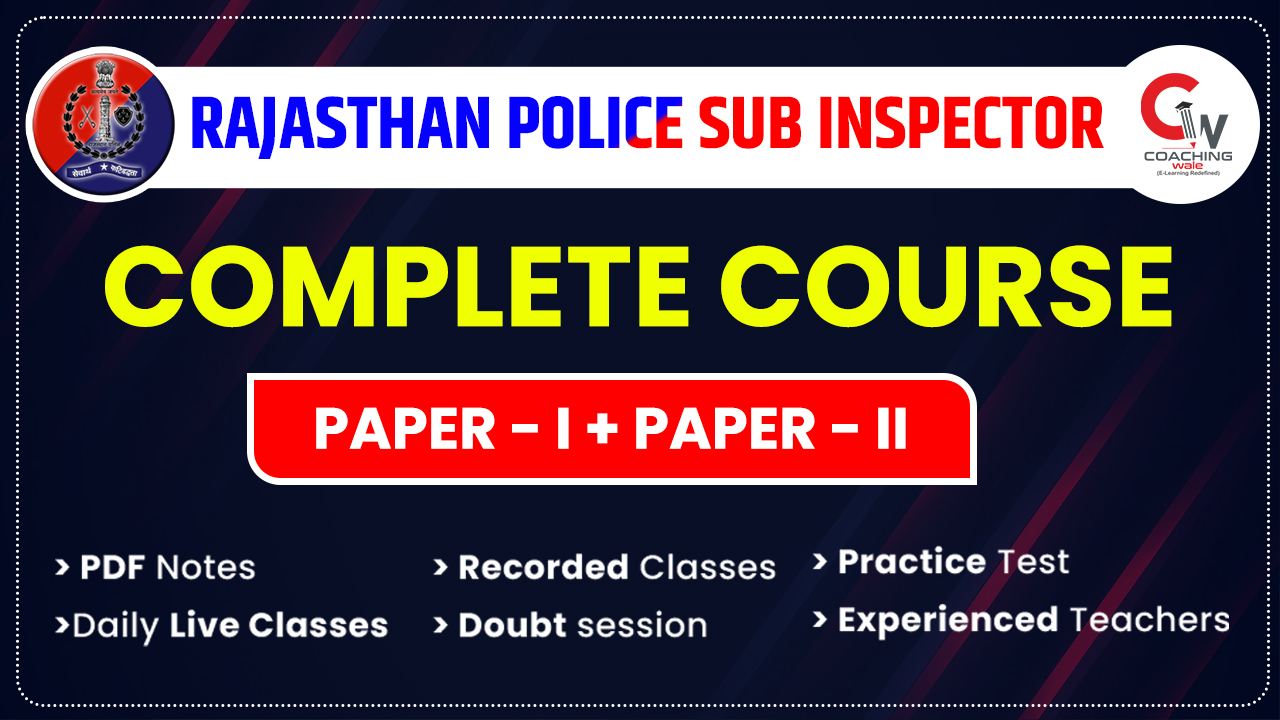 Rajasthan Police Sub Inspector Complete Course
हमसे जुडने के लिए संपर्क करे
Preparing for exams that help you get Rajasthan state jobs can be difficult and mentally draining. Coaching Wale uses the latest advancements in the education domain to bring you the best modules and lectures.
Rajasthan SI Online Coaching Program by Coaching Wale has been developed to cater for the needs of the students so as to help them to realize their dreams of becoming Sub-inspector. This course helps the students in preparing for the exam in a very comprehensive manner, ensuring that no topic gets left behind. The students also get 360° support by this course which allows them to ace the Rajasthan SI Exam.
The course comes with Video and Audio Lectures, Mock Tests and Quizzes, E-Books, Model Test Papers, and Regular All Rajasthan Test Series which ease the preparations and makes success in the exam inevitable.
Best Educators and Subject Matter Experts:
Coaching Wale is blessed to have a team of best educators and content writers in the industry and the whole team at Coaching Wale is dedicated and committed to deliver the best possible content and video classes for students. Everything is planned and curated to match the demand of the Rajasthan Police Sub- inspector examination.
Best Interactive Online Classes:
Coaching Wale gives you multiple options to schedule your online classes with subject matter experts. Choose from an array of classes and slots to suit your needs that offer the best modules for Rajasthan government job preparation. Classes are live with access to all the modules and recorded sessions afterwards. Rajasthan state government jobs experts and advisors conduct these live classes.
Upgraded and Up-to-Date Curriculum:
Rajasthan government jobs demand a myriad of knowledge and understanding of various topics. Coaching Wale covers the latest syllabus prescribed for Rajasthan government exams to ensure full coverage of current topics.
Best feedback and performance tracking program:
The Team of experts at Coaching Wale will be available for all the feedbacks and doubts of students through various channels. Rajasthan exams can be gruelling and need persistence during preparation. Coaching Wale has carefully designed weekly assessments, monthly tests, and regular mock tests to help you draw insights. These help you to best prepare for Rajasthan state government jobs.
Helpful in Self-Learning:
The Coaching Wale team is dedicated to delivering student-friendly content so as to help him in Self- learning. A critical feature of the Rajasthan exam online coaching is the element of quizzes and mind maps. Along with taking tests, keep your brain agile, and revise the topics with short notes at the end of every chapter.
Clear Doubts with Our Experts:
Coaching Wale experts in Rajasthan state jobs offer follow-up sessions to clear your doubts if any. Get answers to your questions in real-time with this feature.