20 Interesting facts about Rajasthan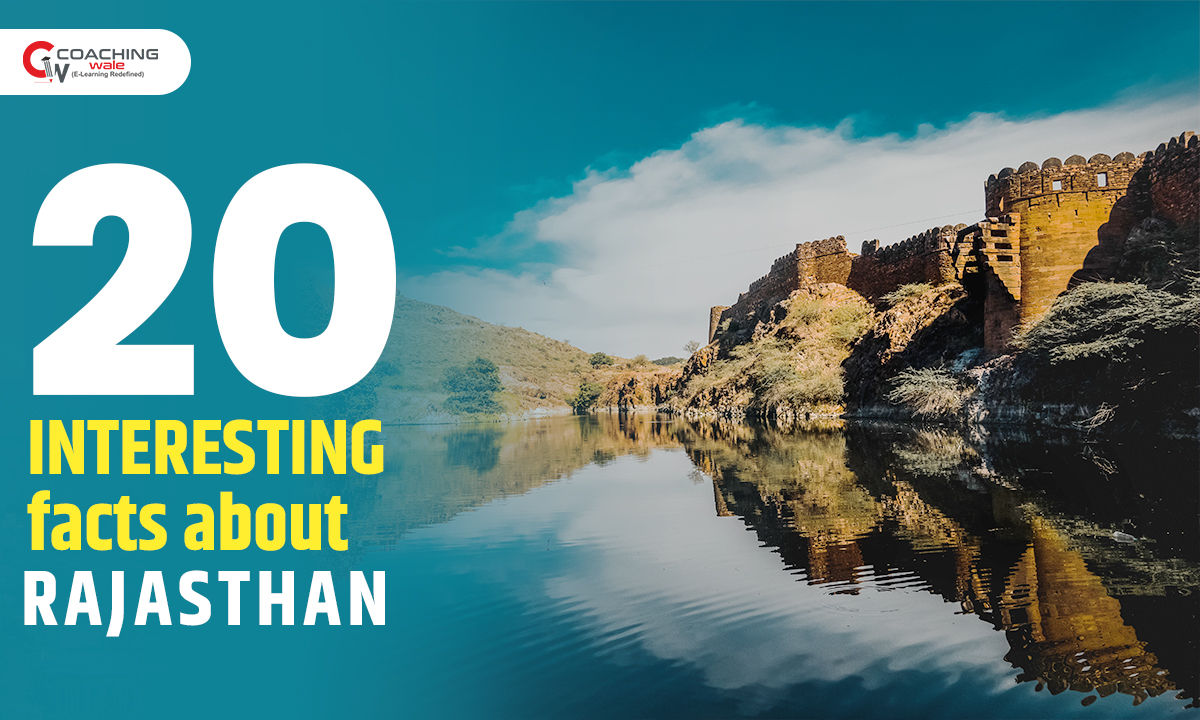 20 Interesting facts about Rajasthan
If you've ever been to Rajasthan, you must know all about its royal charm and impeccable architecture. Rajasthan is home to the biggest desert in our country. It is a beautiful state that is rich in culture. In this article, we bring to you the interesting facts of Rajasthan which will surely impress you and expand your knowledge about the state.
1. If we take area into account, Rajasthan is India's biggest state with an area of 342,239 square kilometers.
2. Rajasthan is home to numerous forts, but Chittor Fort also known as Chittorgarh is the largest fort in Rajasthan.
3. Jaipur, the capital city of Rajasthan was founded in the year 1727 by Maharaj Jai Singh II.
4. Amber was the capital of Rajasthan before Jaipur.
5. Uttar Pradesh, Haryana, Punjab, Madhya Pradesh, and Gujarat share their boundaries with Rajasthan.
6. Rajasthan is home to 3 UNESCO World Heritage Sites- Jantar Mantar of Jaipur, Keoladeo National Park, and the Hill Forts of Rajasthan which are Gagron Fort, Ranthambore Fort, Kumbhalgarh Fort, Amer Fort, Jaisalmer Fort, and Chittor Fort.
7. Luni River which flows in the Thar Desert and concludes in the Rann of Kutch is the only saline river in India.
8. Aravalli Mountain Range, situated in Rajasthan, is India's oldest mountain range.
9. Rajasthan's cities are also named after colors- Jaipur is called the Pink City, Jodhpur is called the Blue City, Udaipur is called the White City, Jhalawar is called the Purple City, and Jaisalmer is called the Golden City.
10. Rajasthan was formed on 30th March 1949 by merging 22 Royal Kingdoms.
11. The world's largest stone sundial is located in Jaipur- the Jantar Mantar of Jaipur is also a UNESCO World Heritage site that houses 19 architectural astronomical instruments.
12. Rajasthan is also rich in wildlife as it houses a staggering 25 Wildlife sanctuaries and 5 national parks.
13. Sambhar Salt Lake in the Thar Desert is India's largest inland Salt Lake.
14. Rajasthan is also rich in spices and is also called the "King of Spices". Clock Tower Market in Jodhpur and Tea and Spice market in Udaipur are popular markets if you want to buy aromatic spices.
15. The first planned city of pre-independence India is Jaipur. The city was designed by a Bengali architect- Purohit Vidyadhar Bhattacharya under the reign of Sawai Man Singh II.
16. The world's second-largest wall complex after The Great Wall of China is located in Kumbhal Fort on the Aravalli range which houses a 36km long wall. Kumbhal Fort is also the second-largest fort in Rajasthan.
17. Rajasthan has a unique topology- with barren infertile lands to the west and fertile lands to the east.
18. The name Rajasthan translates to "The Land of Kings". 'Raj' translates to 'King' and 'Sthan' translates to 'place'.
19. Hawa Mahal in Jaipur is known for its magnificent architecture; it is built with pink sandstone and houses a total of 953 windows.
20. Desert National Park is the largest national park in Rajasthan. It is located near the town of Jaisalmer.
The culture-rich state of Rajasthan is loved by tourists and travelers, due to these reasons Rajasthan is one of the most favored tourist destinations in India. These facts are informative and there are various questions asked about these facts in many Rajasthan state government competitive examinations.