Advantages of a Coaching Institution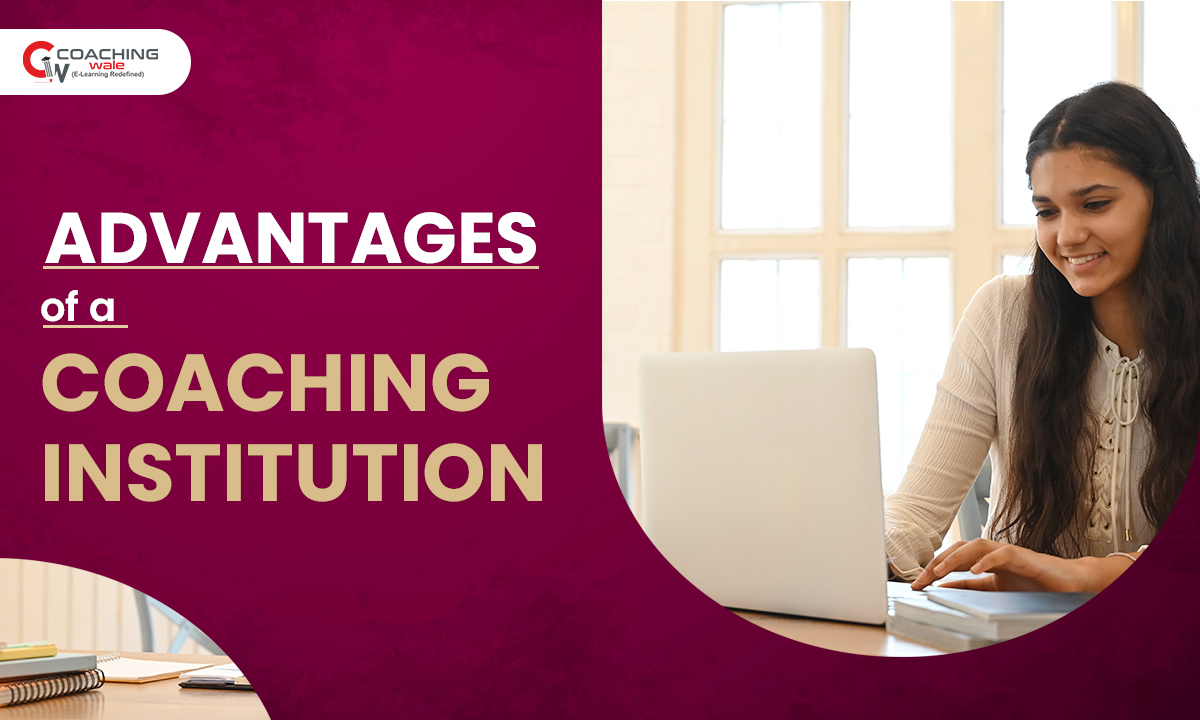 Advantages of a Coaching Institution
There are a lot of ways to prepare for a competitive examination, students nowadays face a serious dilemma whether to join coaching classes or not, their parents face the same dilemma because they want to ensure a bright future for their child. Whether one should opt for self-study or professional coaching has always been a topic of debate. Some prefer coaching classes whereas some like the freedom of self-study.
There is an abundance of coaching institutions in our country, some coaching classes specialize in competitive examinations like JEE, NEET, Clat, etc whereas some teach individual subjects like Maths, Biology, English, etc. In this article, we highlight the merits of Coaching classes.
Perks of Professional Coaching
Experienced Educators
Professional Coaching is one of the best options to prepare for tough competitive exams that have a lengthy syllabus, the teachers at coaching institutions can guide the students from their experience and evaluate their potential accurately. Students can have one on one interaction with the teachers and clear their doubts effectively which is difficult while studying on your own. Students can get a good insight into their potential through plenty of mock tests that the coaching institutions conduct.
Regular Revisions
One of the advantages of coaching classes is that they conduct regular revision sessions. It is quite normal for students to lose their grasp on the previous topics that they have studied as the syllabus is quite lengthy. Competitive exams like JEE, NEET, etc. have a lengthy syllabus that is quite difficult to cover on your own, coaching classes give you a great opportunity to revise the topics that you have covered.
Pre-determined Time Table
If you join a coaching class you don't have to worry about making a timetable for your studies, coaching classes have a pre-determined timetable that is tailored for the student's needs, live lectures, revision sessions, mock tests, quiz sessions everything is incorporated in the time table. Coaching classes are designed to complete and revise the whole syllabus before the exam date. This way, students don't have to bother about making and following a timetable and they can focus all their energy on their studies.
Efficient Study Material
Coaching classes provide high-quality study material that is not available normally to every student. Coaching classes provide their students with regular notes and PDFs, books, and video lectures. These study materials are crafted by experienced lecturers and students who have not enrolled in coaching classes don't have access to these notes. These notes can help you in preparing for the competitive exam and you don't have to refer to other sources.
Competitive Environment
Coaching classes provide a competitive environment for every student where the students can test and assess their skills and compete with their peers. Weekly quizzes and mock tests conducted by these institutions let the students compete between themselves in a healthy environment. Healthy competition encourages the student to improve and get better.
Routine
Discipline is beneficial to cracking a competitive examination. Coaching classes have fixed timings for their lectures which incorporates a routine habit in students. Students follow a schedule and learn about the subjects every day in a fixed schedule which inculcates the student with discipline. This creates consistency and the student develops a momentum of studying every day.
Conclusion
Coaching classes have a lot of merits which help students in their competitive exam preparation, if you want to crack a competitive exam and are doubtful that you can study on your own then you can choose to join a coaching institute which will clear all your doubts and groom you properly for the examination. If you're trying to clear a government competitive exam in Rajasthan, we suggest you try out Coaching Wale.