Obstructions while Preparing for a Competitive Exam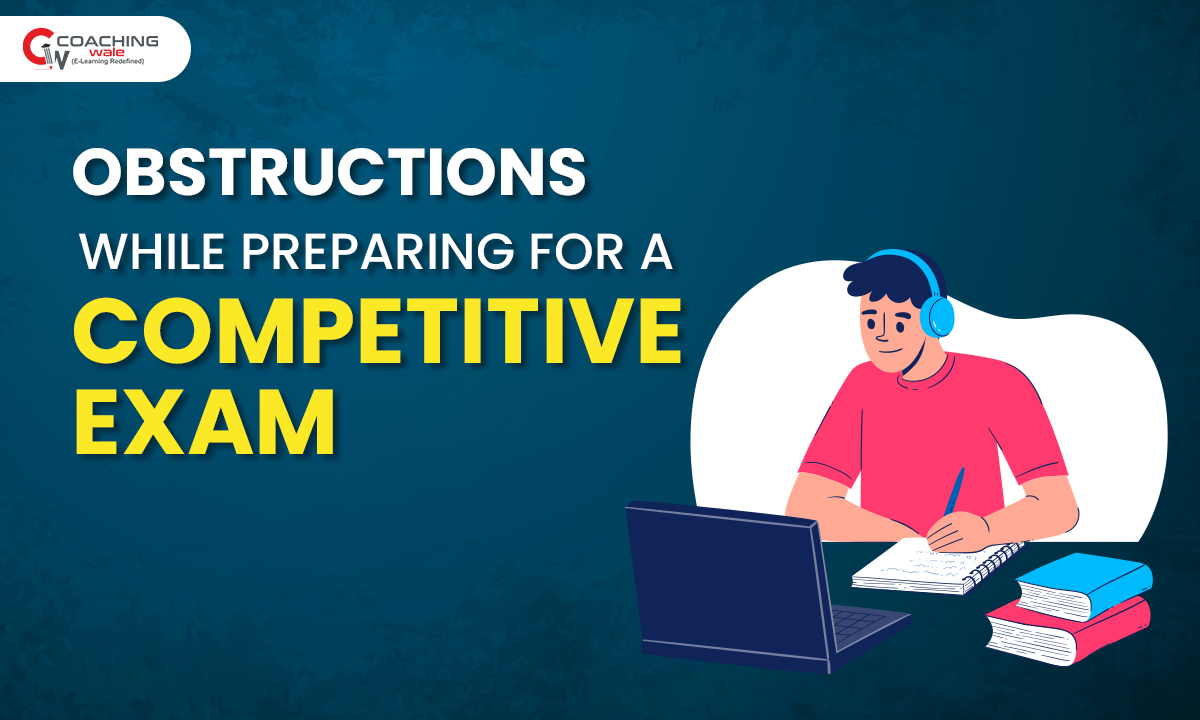 Obstructions while Preparing for a Competitive Exam
Exams are an integral part of our lives. Whether it's college admissions, job opportunities, or scholarships, there are competitive exams for them. Competitive exams are very hard to clear and require stern preparation. Many students who apply for these exams study day and night to pass the exam. However, there are various hurdles students face during preparation.
There are many obstacles in a student's way while preparing for a competitive examination. These hurdles act as a barrier between a student and their dream. Students who can't overcome these obstacles become stressed and anxious and fail to cope. Students tend to lose their confidence and motivation when facing difficulties during preparation. It is perfectly natural to feel anxious and stressed but students who acknowledge these obstacles and work hard to overcome them succeed in life. In this article, we will shed some light on the various obstacles faced while preparing for a competitive examination and how to overcome them.
How to begin
Many students face problems with starting their preparation. They are misinformed about the exam pattern and the syllabus. Because of this, many students give up even before starting their preparation. You should properly research the exam you're appearing in. Look for the official notification of the exam and learn about the syllabus and pattern of the exam.
Time Constraints
Competitive exams aren't easy by any means, candidates have to invest all their time to prepare for them. Many candidates who have jobs and are preparing for the exam face this issue. Not everyone can invest their day and night to prepare for the exam. The best thing to do is to make a timetable and adhere to it. Accommodate breaks into the timetable so that you can easily manage your personal life and preparation
Financial Constraints
Money is a big factor when preparing for a competitive exam. There are plenty of books and study material that you will need to buy or rent. Some candidates who aren't financially stable are not able to procure the necessary study material required to prepare for the exam. If finance is an issue for you, you can browse Coaching Wale's affordable and efficient courses that are sure to help you in your preparation.
Mental Constraints
Some students who aren't mentally prepared to start their preparation start making excuses. They start thinking that the exam is very tough and they have no chance of passing. This has a negative impact on the candidate's preparation as they have already made up their mind that they can't clear the examination. This is often seen in people with low self-esteem.
Inappropriate environment
Every activity requires a certain kind of environment just like preparation. You can't prepare in an unhealthy environment with a lot of distractions. You will not be able to concentrate in an inappropriate atmosphere. Try to find the perfect environment to start your preparation that is free from distractions.
Obstructions
The biggest obstruction for a candidate is a smartphone. Try to stay away from smartphones, televisions, or media devices while preparing for a competitive exam. It is alright to browse social media in your break time, but constantly checking your phone and social media while studying will get you nowhere. Lock away your phone for the duration of your study session.
Conclusion
The above-mentioned points are some of the most common constraints a candidate faces while preparing for a competitive examination. Candidates can take simple steps to overcome these hurdles but most of the time candidates succumb to these constraints and lose their focus. If you want a foolproof strategy to prepare for a competitive examination, Coaching Wale has courses that offer all the necessary components required to clear the examination. Our experienced educators will help you and guide you in the right direction so you don't get discouraged and lose your focus.