What to do after you Complete Your Graduation?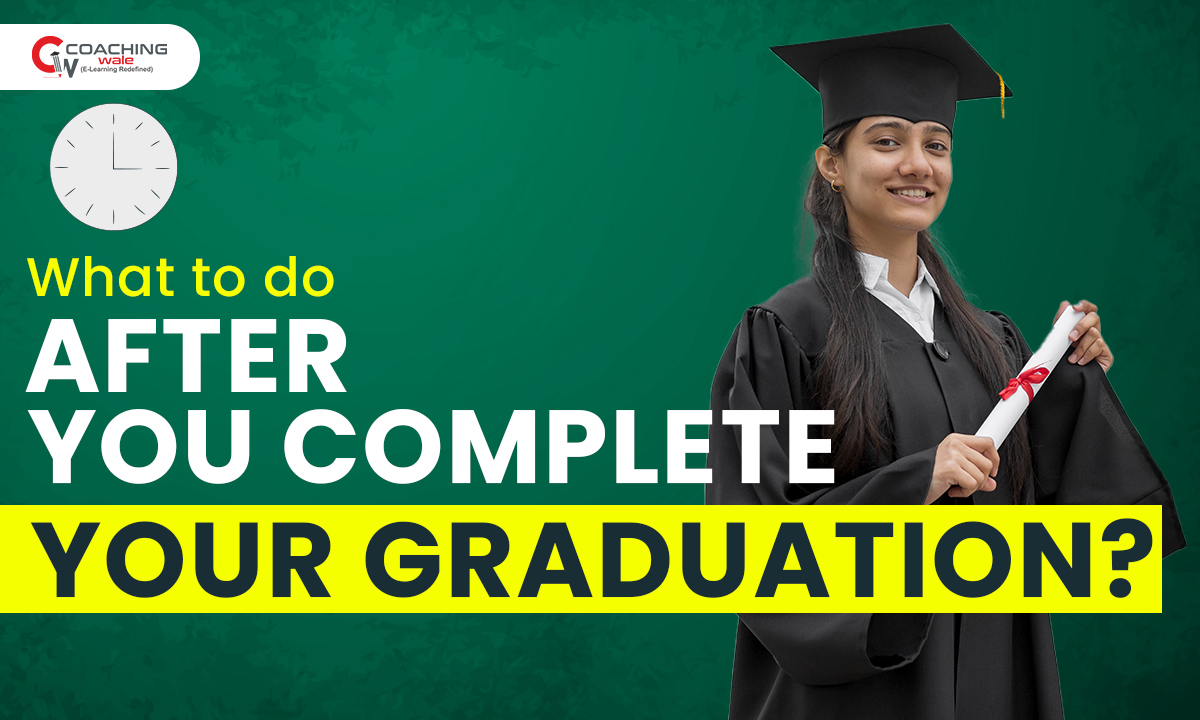 What to do after you Complete Your Graduation?
Choosing the right stream after you complete high school is not very challenging because there are not a lot of options in front of you. Basically, either you are good in science, you'd prefer physics and chemistry with mathematics or biology, or you can go with Arts or Commerce. The idea of continuing your studies in a different manner after high school is pretty much sorted. The real struggle starts to post your graduation ceremony when you are done with your higher studies but also there is confusion about landing a job or continuing your Masters or sitting in a competitive exam.
The real challenge is to choose the right career whether you have graduated from the Arts field or the Science field. If you are also struggling in choosing the right career for you, do not fret, this article will help you in choosing your career after your graduation. 
Basically, there are four major options after you complete your graduation. 
A) Continue your further studies
B) Choose a competitive exam for government services
C) Choose a private job
D) Become an entrepreneur
Continue your further studies
One of the best options after graduation is to continue your further studies, complete your Masters or become a Doctor in Philosophy. It is one of the best options because a lot of new opportunities find their way to you and it is very easy to grab them once you have completed your high-level education from a reputed institute or from a foreign university. Nearly every student hunts for opportunities after his/her graduation, and that is why we see a surge in applicants for jobs every year who are just graduates.
Choose a competitive exam for government services
Some students start preparing for their government exams when they are in the second year or third year of their college, and some decide to sit in the competitive exam after finishing college. Basically, there are a lot of students who apply for a government job every year, but only a few get selected for them because of the less number of seats. The best part of government jobs is that you can attempt it multiple times and there is huge flexibility in the age requirement. Hence, students appear in the exam, again and again, most of the students give up, but the ones who are patient enough clear their exam in the fourth or fifth attempt if not in the first or second. Therefore, you can opt to sit in a competitive exam if you are patient enough to survive for more than 2 years without a job.
Choose a private job
This is the easiest way to get placed after your graduation and requires the least effort, that is why the private sector is the most populated. But then again you need to possess the required skills by the organization, otherwise, you might lose your job. 
Become an entrepreneur
Unfortunately, only a fraction of students in India decides to become an entrepreneur and start their own businesses. On the contrary, students studying abroad mostly believe in starting something up on their own without relying on other bodies to give them a job. Becoming an entrepreneur requires an idea, which is not an easy task. You have to build a brand from the scratch and it takes a lot of courage, and capital too. Hence, you can jump into becoming an entrepreneur if you have an idea of your own and are ready to invest a lot of money in it.